There's a company called "Moving Masters" that appears to be promoting itself online by stolen valor marketing, that is, hijacking the heroism of America's war heroes to sell relocation services to veterans and senior citizens.
The company website claims that it is "an American owned and operated moving company whose immediate and extended family members were active World War II, Korean War and Vietnam War veterans."
Audie Murphy and Stolen Valor Marketing
The moving company uses in social media a public domain photo of Congressional Medal of Honor recipient Audie Murphy as well as a bio for the deceased World War II hero that the company claims comes from the 59 Veterans Project.*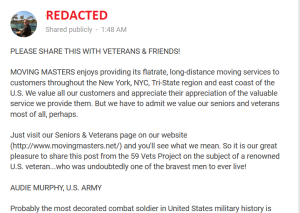 Online research reveals no connection whatsoever between Audie Murphy and the company. There is no evidence to show either Murphy's estate or family endorsed the use of his military accomplishments to sell moving services by this company.
So why is the company using Murphy to sell its services? Because Murphy's heroism appeals to veterans and senior citizens.
Stolen Valor Marketing Using the Vietnam Veterans Memorial Wall
Appealing to the same demographics, the company website's Seniors & Veterans page shows an uncaptioned photo of what appears to be a veteran touching a name on the Vietnam Veterans Memorial. There is no indication this man has endorsed the moving services or why a memorial for American military killed in action during the Vietnam War would be relevant to this moving company.
Veterans Marketing Offer
On multiple social media sites (Google+, Facebook, etc.), the company claims "But we have to admit we value our seniors and veterans most of all, perhaps. Just visit our Seniors & Veterans page on our website and you'll see what we mean." [emphasis added]
Perhaps?
The moving company's website contains the following offer to veterans.
This is the exact same rebate offered to "seniors relocating out of New York" and "local entire house relocations." According to the site, the offers cannot be combined.
In short, veterans might save "up to 10%" after being inspired to purchase by photos of Audie Murphy and the Vietnam Veterans Memorial Wall.
Is Stolen Valor Marketing Legal?
When a person engages in stolen valor by lying about personal military service or wearing unearned medals, the courts have generally upheld the "right" to do so as protected free speech under the First Amendment. You can learn more about this problem at StolenValor.com.
What about stolen valor marketing? Is it legal?
That depends. Commercial speech doesn't enjoy the same legal protections as pretending you're a retired Navy SEAL at the local VFW.**
If investigated by the government (e.g. the Federal Trade Commission or a state Attorney General's consumer protection division), the key issue would be whether the marketing was fraudulent or deceptive.
Even if stolen valor marketing is legal (like flag burning), just because something can be done, doesn't mean it should be done.
* This article does not analyze the 59 Veterans Project, its legitimacy, or any affiliation between the project and the moving company.

** Even if legal to do so, pretending to be a former Navy SEAL is a good way to get your ass kicked.
*** No opinion is provided as to the quality or pricing of the moving company's services. The purpose of this article is solely to discuss stolen valor marketing practices. Perform due diligence before purchasing from any vendor of products or services.