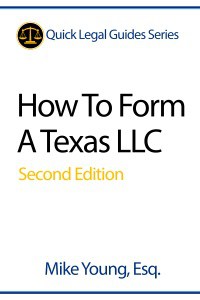 The second edition of the Quick Legal Guide "How To Form A Texas LLC" by Business Lawyer Mike Young is now available.
What You'll Find In This Quick Legal Guide
The book reveals…
The steps you need to take before Texas LLC formation
How and where to file the paperwork to form a Texas limited liability company
Federal and Texas state tax issues for your LLC
Why your Texas limited liability company should have an operating agreement — and what to include in the agreement
How to set up bank accounts properly for your new Texas LLC
4 types of insurance protection you should consider getting for your Texas limited liability company
What to include in employment agreements
And the guide also contains a Quick Start Checklist plus a Resources section to save you time when setting up your Texas LLC.
Where can you get this Texas LLC formation guide?
Want to form a Texas LLC quickly? You'll find the guide in both paperback and Kindle electronic formats at Amazon.com. Get your copy today.